Zumba is perhaps the latest fitness craze presently. Across my town there are banners advertising Zumba dance classes, posters are plastered up everywhere, and it seems that via word of mouth, many people are signing up to see what the fuss is about. However, not everyone feels comfortable enough with dancing wildly in front of others, and this is where Zumba Wii steps in.
So what is Zumba exactly? It is a highly energetic aerobics type exercise session that combines elements of salsa, calypso, latin, belly dancing and other exotic type dances. The class is designed to burn off calories by using every part of your body in the variety of dance routines on offer, and the Zumba Fitness for the Wii also aims to do the same.
The Wii version comes equipped with the game and a Wiimote holder which straps around the hips, in order to track your hip movements. There are a lot of twists and turns involved in the routines, and so this holder is designed to give the game a more accurate reading on how much you are responding to these hip movements. This is important if you wish to keep a record on your progress, as wearing it will alter your fitness diary.
The game features 30 international rhythms, across 9 different dance styles. Try your hand at Merengue, Cumbia, Reggaeton, Salsa, Hip-Hop, Mambo, Rumba, Flamenco and Calypso. Each song is highly energetic, and are also very fun to complete. Upon first impressions,
Zumba Fitness
seemed a bit over-whelming to me, but after doing a routine more than once, I found that I got used to the dancing quite easily. Good co-ordination and not having two left feet definitely is a bonus with this game though, as the dances require quite a lot of concentration at first. Being a little clumsy on your feet will throw you out of the rhythm, and in all honesty, it takes a little while to get back into it again.
As a
Zumba
virgin, the Tutorial section was at first somewhat tricky. However, once playing through a dance move twice, I had picked it up, and was ready for a full session. Sessions are grouped in Beginner, Intermediate and Expert sections, and range from 20 minutes, to 45 minutes. As expected, the dance moves become much more complex as you try out a higher difficulty, but these become much easier to grasp the more the routine is practised. The difficulty curve is not too hard and contain a lot of the dance moves you are already familiar with in the previous difficulty, so due to this, it should not be overly daunting for you.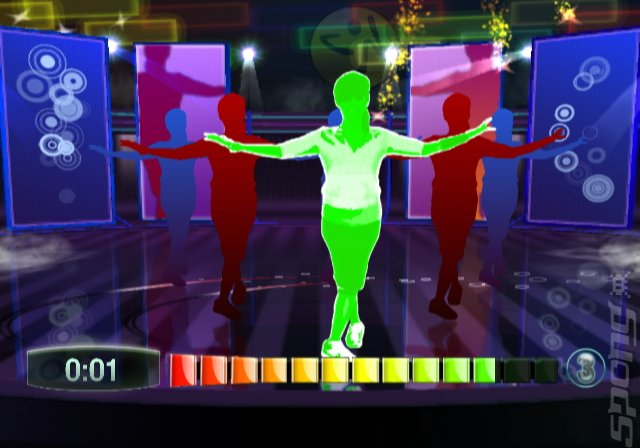 There is the option to play with another two or three people in Dance-Off's or full sessions. Additional belts can be bought for this purpose on the
Zumba
website, but I'll warn you now-you need a lot of room to be able to do this! You will require a significant amount of space to dance solo also. I live in a small flat, so I personally struggle on the moves that require more space, such as the slides and side-jumps. If you do have the room though, great! A work friend of mine told me that she works out with her two year old daughter to
Zumba Fitness
. She told me this with such affection that I truly believe that playing this with a family member or friend can be quite an enjoyable experience.
Although Zumba Fitness is highly beneficial, and I noticed a significant change in my body throughout the sessions I have completed, there are unfortunately some negative aspects. Firstly, the Zumba Fitness belt that is bundled with the game is not overly responsive. Slipping your WiiMote into the holder is supposed to track your hip movements during the dances, but unfortunately a lot of the time, these movements are not picked up by the game. Therefore, it appeared on the screen that I was hardly moving along to the routine, when in fact I was the complete opposite-working up a sweat and still managing to keep up with the fast paced routine. It is a little disheartening to find that the game is registering you as not joining in with the routines, especially as you are scored on how well you do at the end of the session, and the unresponsive aspect really hinders this.
Another downside is that Zumba Fitness does not contain a calorie counter, and there is no option to weigh yourself. This game is highly energetic, and after only a week of daily sessions, I felt like I had already began to significantly change my body shape. It would have been a handy aspect to track your progress via your weight loss, rather than the inconvenience of changing discs to Wii Fit and setting up the Balance Board to record your weight.
So, is it worth picking up?
While the features may be a little sparse (routine modes, tutorial and party modes, but no progress recorder, for example), Zumba Fitness
for the Wii is a highly enjoyable dance game. After only a week I found that my body had toned up significantly, and continues to do so as I use this as part of a daily exercise regime. The international dance music chosen for the game is entertaining to dance to, and the routines fit nicely with the beat of the music. The difficulty curve is a nice one, so thankfully you will not be dreading your rise up into the next rank when you decide to take it up a notch.
Unfortunately not all of your dance moves are picked up on the screen, and this unresponsiveness is rather irritating, especially as the end of session score is greatly affected by this. Zumba Fitness is available for around £22.95, and comes complete with one WiiMote hip waist holder. A typical Zumba session in a centre will cost around £5, so for the price of this Wii version, it is definitely worth it. You have pretty much paid for four sessions of Zumba
by buying this disc, and will be getting a lot more out of it after that without paying the extra cost. If you want to save some money and do exactly the same as what they are doing in the sessions, but in the privacy of your own home-get this!
If you fancy something highly energetic, enjoyable and extremely beneficial, then I definitely recommend giving Zumba Fitness a go.